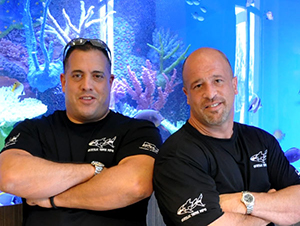 Wayde King & Brett Raymer of Animal Planet's Tanked
Wayde King,
CEO, Acrylic Tank Manufacturing
As Seen On: Animal Planet's Tanked

Wayde King's love of fish began at an early age. Born and raised in Long Island, New York, Wayde has early memories of his mother and biological father, who was a fish dealer, and the multiple tanks they had in the basement of his home. At 14, he was cleaning aquariums in Long Island with his stepfather, Shelly, and over a decade later, he moved to Vegas to work for another company where he built and sold aquariums. The move to Vegas led to the building of a tank for a family that possessed the only thing he loves more than fish: his wife, Heather. Heather's father, Irwin, recognized Wayde's zeal for fish and partnered with Wayde to help him hone his expertise of tanks and fish and grow both into a successful business.

Today, Wayde is living his dream designing and manufacturing some of the largest and most extravagant acrylic tanks in the world. But this isn't just a business, it's a family adventure. By Wayde's side are his wife, his brother-in-law and chief operating officer, Brett, and his father-in-law. Working with family has been very challenging, but Wayde is happy to share the stress and success with the people he loves the most.

Brett Raymer
COO, Acrylic Tank Manufacturing
As Seen On: Animal Planet's Tanked

Brett Raymer is the COO of Acrylic Tank Manufacturing (ATM), and you couldn't build a tank big enough to hold his larger-than-life ideas and personality. Originally from Brooklyn, New York and ever ready to take on a new venture, Brett jumped at the opportunity to help his family create their tank-building dream in Las Vegas. Wayde and Brett started the company before Wayde and Heather were married and the company is still thriving. Known for his ability to wheel and deal and his somewhat impulsive confidence, Brett has brought Wayde some of his most loyal clients. Though some days Wayde wishes Brett would slow down, Brett believes that if you can dream it, ATM can build it. He said seeing the face of someone enjoying a tank is priceless.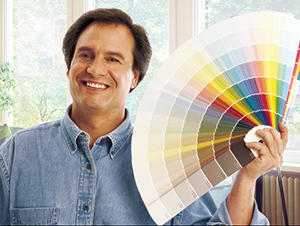 Brian Santos "The Wall Wizard"
Brian Santos, a fourth generation painting contractor and author of best-selling how-to books, uses "edutaining" demonstrations in his television appearances and how-to's for industry giants like Sherwin-Williams®, Imperial Wall coverings, The Home Depot and Lowe's, and at home and garden shows throughout the world to create wall magic whether it be with paint, paper, or fabric.

Over a touring career of more than 25 years, Santos has developed a series of "Wizard Workshops" that educate and empower audiences with simple tips, tricks, and techniques to help them tackle projects around the house with confidence.

He has given in excess of 5,000 Wall Magic workshops to more than one million do-it-yourselfers all over the world! Brian has also shared his expertise on national TV, including Good Morning America, Today, and HGTV's Smart Solutions, as well as on TLC and the Discovery Channel.

Growing up and working in the San Francisco Bay area, Brian's past clients include former San Francisco 49ers' quarterback Joe Montana, actress Doris Day, and Star Wars creator George Lucas.